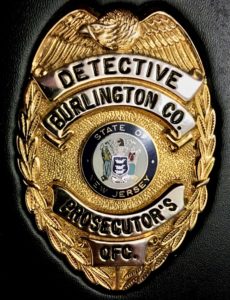 COUNTY INVESTIGATOR
The Burlington County Prosecutor's Office is currently seeking qualified applicants for the position of County Investigator. Residency within Burlington County is strongly preferred.
Date of Announcement
Minimum Qualifications
Applicants must possess a current Police Training Commission Certification from the Basic Course for Police Officers or Basic Course for Investigators
Applicants must also possess a Bachelors Degree from an accredited college; however prior law enforcement experience may be considered in lieu of a degree by the County Prosecutor
Positions are available for investigators with varying levels of experience with starting salary commensurate with experience
How to Apply
Interested applicants should forward a letter of interest and a resume to:
Chief Darren Anderson
Burlington County Prosecutor's Office
PO Box 6000
49 Rancocas Road
Mount Holly, NJ 08060
Correspondence can be sent electronically to BCPOEmployment@co.burlington.nj.us
The Burlington County Prosecutor's Office is an Equal Opportunity Employer.