Burlington County Prosecutor LaChia L. Bradshaw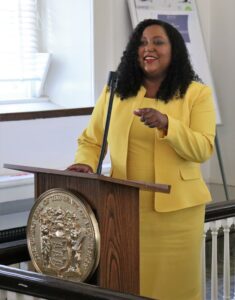 Prosecutor LaChia L. Bradshaw, who took her oath of office on July 11, 2022, is a native of New Jersey, and was raised in Lawnside, where she attended public schools and graduated from Haddon Heights High School.
She received her B.S. in Administration of Justice from Rutgers University with a minor in Sociology and a Certificate in Criminology. While attending Rutgers, she spearheaded a domestic student exchange program between Rutgers and Historically Black Colleges and Universities and became the first Rutgers student to represent the school at Howard University for an entire academic year.
In 1995, Prosecutor Bradshaw enrolled in the University of Maryland School of Law which was an enriching academic and social experience that introduced her to mentoring young students. As chairperson of the Black Law Students Association Mentoring Program, she led a team of mentors to uplift and encourage students at the Booker T. Washington Middle School in Baltimore. She was recognized for her efforts by being awarded the Mayor's Citizen Citation Award. She further distinguished herself in law school by earning a position on the school's prestigious Moot Court Board.
In May 1998,  Prosecutor Bradshaw graduated from law school and returned to the Garden State. Her legal career began as a clerk for the Honorable Marie White Bell in Superior Court, Burlington County Vicinage. After her clerkship, she joined the Prosecutor's Office, working in the Juvenile and Screening Units before being assigned to the Megan's Law Unit, where she was named Supervising Assistant Prosecutor. During her time leading this unit, she engaged with the community as well as local law enforcement officials to educate and train them regarding the nuances of Megan's Law, the dangers of child exploitation and the risk of sex offender recidivism in the community.
This position led to an opportunity to successfully brief and argue many Megan's Law issues before the New Jersey Megan's Law Appellate Division, the Appellate Court and the Supreme Court of New Jersey.
Prior to being nominated by Governor Phil Murphy,  Prosecutor Bradshaw served as a Senior Assistant Prosecutor in the BCPO Major Crimes Unit, Special Victim's Section. It was in this role that she developed a passion for zealously advocating for the rights of women and children who are survivors of physical or sexual violence.
Although the Unit's focus is on sexual assault and child abuse, she also supervised prosecutions from the initial investigation through trial for homicide, kidnapping and other offenses.
Prosecutor Bradshaw is the first person of color and the first woman to be approved for a full, five-year term as prosecutor in Burlington County.