Burlington County First Assistant Prosecutor Brenda Román Maneri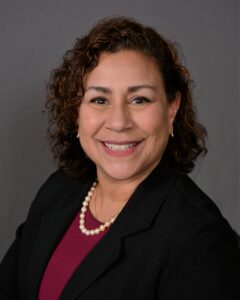 When Brenda Román Maneri took her oath of office on July 11, 2022, to become the First Assistant Prosecutor of the Burlington County Prosecutor's Office, it marked her second stint with the agency.
She began her legal career at the Kings County District Attorney's office in Brooklyn, New York, after graduating from Rutgers Camden School of Law in 1988.
From there she came to the Prosecutor's Office, where she spent most of her 10-year tenure as a Supervising Assistant Attorney in the Sex Assault/Child Abuse Unit. During that time, she was instrumental in developing the protocol for the screening and enforcement of Megan's Law cases.  She supervised all aspects of community notification and handled all tier designation appeals.
After focusing on raising her family, Ms. Maneri worked as a criminal defense lawyer with the firm of Sitzler and Sitzler in Hainesport, New Jersey.
She currently serves as president of the Burlington County Bar Association and is the former chairperson of its Diversity, Inclusion and Leadership Committee. The organization honored her in 2020 with the Outstanding Woman in the Profession Award.
Additionally, Ms. Maneri is a member of the Hispanic Bar Association of New Jersey and the New Jersey State Bar Association, where she is a member and trustee of the LGBTQ section.
As a proud Rutgers Camden Law graduate, Ms. Maneri is a committee member of RADICAL,  the Rutgers Alumni Diversity, Inclusion, Community Building and Access in Law.
She previously performed pro bono work for a non-profit agency that helps victims of domestic violence.
She is a proud first-generation Colombian-American and is fluent in Spanish.