Burlington County First Assistant Prosecutor Brenda Román Maneri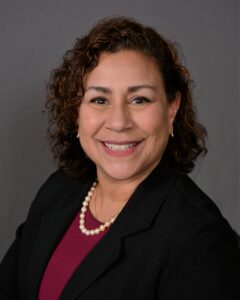 Ms. Maneri is the First Assistant Prosecutor in Burlington County, NJ. She received her juris doctorate in 1988 from Rutgers Camden School of Law.  She received her undergraduate degree in International Relations with a concentration in Latin American Studies from Saint Joseph's University in Philadelphia, PA. Ms. Maneri began her legal career at the Kings County District Attorney's office in Brooklyn, NY. After moving back to New Jersey, she worked as an assistant prosecutor in Burlington County, NJ for eight years, where she spent most of her career supervising the Sexual Assault and Child Abuse Unit.
After leaving the Prosecutor's office in 1998, Ms. Maneri worked as a private criminal defense attorney.  She has argued in the Appellate Division and the New Jersey Supreme Court. While in private practice, Ms. Maneri frequently represented survivors of domestic violence as a pro bono attorney for Providence House/Catholic Charities.
Ms. Maneri is Immediate Past President of the Burlington County Bar Association as well as co- chair of the Diversity, Inclusion and Leadership Committee.   Ms. Maneri is also a member of the Hispanic Bar Association of New Jersey and the New Jersey State Bar Association where she is a member of the Diversity Committee, the Criminal Practice Section, Minorities in the Profession section,  and trustee of the LGBTQ section. Consistent with her commitment to community involvement, Ms. Maneri has been appointed to the Burlington County Vicinage Committee on Diversity, Inclusion and Community Engagement. Through the "Minorities in the Profession" program at Rutgers Law, she has supported their scholarship and mentor programs. Ms. Maneri is a past recipient of the Burlington County Bar Association Woman in the Profession Award (2020).  She is a proud first generation Colombian American and is fluent in Spanish.